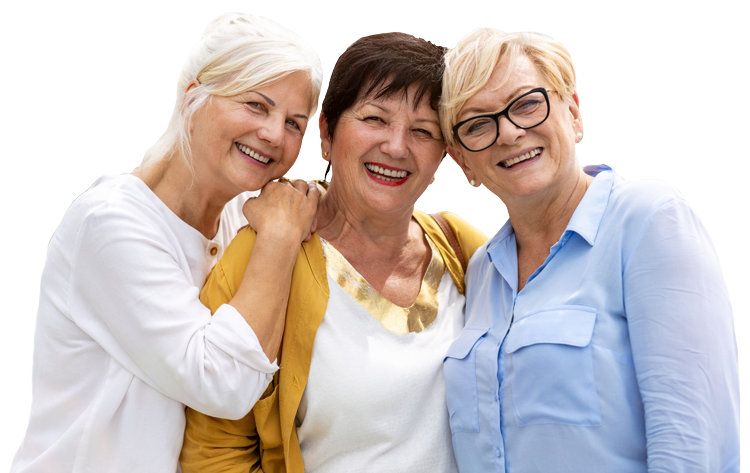 Assisted Living
in Florence, AL
Welcome Home to
The Renaissance of Florence
Newly Renovated Senior Apartments in Florence, Alabama
Retirees searching for the "best-rated assisted living near me" can live in the comforts of contemporary senior apartments that feature:
Modern fixtures
Kitchenettes

Accessible restrooms

Basic cable
Individually controlled A/C
Housekeeping and laundry service
Small pets welcome
Welcome to Senior Assisted Living in Florence, AL
You won't need to worry when you're with us. At our award-winning assisted living community, you'll find our LPNs are here around the clock. Our caring team members are here for you daily, ensuring you have the best experience possible. The Renaissance of Florence management team has over 91 years of experience combined. We're here to serve you!
You can find us playing bingo, chatting at happy hour, relaxing in the courtyard, or catching up over nutritious and comforting meals. Older adults in Northwest Alabama can let go of life's hassles and enjoy retirement living with the benefit of individualized support. We're dedicated to serving your assisted living needs in a beautiful, welcoming environment.
Residents love the ability to say goodbye to chores and loneliness. New friends are waiting, and a team of dedicated senior experts is ready to provide unparalleled service in our vibrant senior living community.
Come home to a best-rated senior living community that offers the support you need. Choose an independent lifestyle for you or a loved one. Seniors who live here continue to grow and maximize their abilities.
The benefits of our assisted living community in Florence:
Salon

Library

Enclosed sunroom

Paved

walking paths

Wellness programs

Daily social activities

Pet-friendly apartments

Restaurant-style dining room

Recreation and activity center

Seasonal, chef-prepared meals

A private outdoor courtyard and garden
Eliminate your need to find new senior living communities as your needs change. Secure your future in a home that provides multiple assisted living care levels that grow with you or a loved one's lifestyle.
Assisted Living | Florence, AL
Older adults can extend their levels of independence with assisted living. Personalized senior care plans give residents the confidence to enjoy their lives. Daily meals and activities promote a healthier lifestyle.
Our assisted living community provides individualized support. From medication reminders to personal care and hygiene assistance, residents only receive and pay for the services that benefit their lifestyles. The cost of assisted living in Lauderdale County is flexible, thanks to our individualized levels of care. The Renaissance of Florence helps residents and their families discover the value of assisted living over senior home care or an independent living community.
While living independently, residents enjoy peace of mind knowing 24-hour support is readily available to offer assistance.
Assisted living residents continue staying social and engaged in our community. From new friends to new hobbies, our activities calendar encourages a healthier lifestyle. Seniors can find different ways to connect, move, and grow daily.
Assisted living prices starting at $3,630
Assisted living prices starting at $3,895
Think You Can't Manage the Cosr Assisted Living? Think Again!
A smaller apartment doesn't mean fewer amenities. Increase the value of your senior living experience.
Enjoy fully renovated senior-friendly studio apartments at The Renaissance of Florence at reasonable rates!
I never, ever worry about my parents anymore. They're happy, we're happy, they're lovingly cared for, safe, and even entertained! All our lives have been changed, just when I wasn't sure I'd make it, much less my 90-something-year-old parents! Thank you from the bottom of my heart, Renaissance."
What does the cost of Florence assisted living include?
Discover more about your options for senior living and how the monthly price can vary from service to service.
Welcome to The Renaissance of Florence!
Hi, I'm Laura, the Executive Director for The Renaissance of Florence. I have always had an affection for seniors, probably due to several factors such as my mom being a nurse for most of my life in a senior care setting. Serving seniors means everything when you can make a difference in someone's life or serve someone that has done so much for others.
Spacious Apartments at The Renaissance of Florence
Our assisted living apartments are ready for you to turn into your new home. Bring your favorite furniture and heirlooms, and we'll take care of the rest. 
Dining Well in Florence, AL
Chef Dedra and her culinary team at The Renaissance are dedicated to fine dining with fresh, seasonal ingredients. We are committed to making your favorite dishes and always welcome residents' feedback.
Take a tour and have lunch with us to discover why the residents look forward to nutritional meals every day!
Assisted Living Activities at The Renaissance of Florence
Enjoy daily activities like fitness and wellness exercises, stay entertained by guest musicians, performers, entertainers, and authors, get mentally fit with brain games, or meet new friends during social hours.
Interested in becoming a resident?
We are ready when you are.
Get to know our team today.
Hear why we're the Florence assisted living community family members recommend.
We'd love to hear from you! Please leave a review: